Scritti Politti Overview
"Scritti occupies a funny place in that it never would have happened if it hadn't had the jolt of punk, that strange hiccup. It forced everyone who might otherwise never have thought about it or done it to question what was going on around them. That particular aesthetic and political impulse, as well as several other aesthetic and political concerns, does make us rather peculiar." - Green Gartside in 1985

In 1977, Green Gartside [born June 22nd 1956 in Cardiff, South Wales] and Tom Morley emerge from Leeds Art College, inspired to begin a career in music after seeing the Sex Pistols' "Anarchy In The UK" tour. They move to a squat in Camden Town, London and Green invites old school friend Nial Jinks down to join the band.
The band name is adapted from a book Green is reading at the time called "Politician Writing" by Antonio Gramsci, which has the Italian title "Scritti Pollitici" written inside the cover. The band's music has a punk and reggae sound and the vocals have a political style. Politics figure heavily in Green's life at that time; he reads a lot of it and has minor involvement (along with Nial Jinks) in the Young Communist League.

The band start gigging in small London venues, and the songs are mainly improvised. Encouraged to make their own records, they make three DIY records (two with photocopied sleeves) which are released on their own St. Pancras label and distributed by Rough Trade. The singles sell well and generate interest from the music press. In interviews, Green emerges as the reluctant frontman for the group and quickly presents an image of a philosophical and politically-minded person with a large vocabulary who uses many words when only a few will do, which the music press love.

In 1979, Green falls seriously ill (due to the squatting lifestyle) and returns to South Wales to recouperate. Now influenced by soul and R'n'B, he returns to London in 1980 and persuades Nial and Tom that the band should change its musical direction. Green works with Rough Trade (without a contract), and three singles 'The Sweetest Girl', 'Faithless', 'Asylums In Jerusalem' / 'Jacques Derrida' (double A-side) and an album 'Songs To Remember' are released. The singles make the independent UK chart's top 5 but narrowly miss the main UK top 40. The band dispand and Green returns to South Wales again to write some new material.

Green returns in 1984 with new cohorts David Gamson and Fred Maher (of Material), both from New York. The music is different again, a cleverly constructed silky synth-pop, and 1984/85 turn out to be Scritti's finest years. Green signs to Virgin (Warner Bros in the US) and five singles 'Wood Beez (Pray Like Aretha Franklin)', 'Absolute', 'Hypnotize', 'The Word Girl', 'Perfect Way' and an album 'Cupid & Psyche 85' are released, giving Scritti their long-awaited chart success. 'The Word Girl' is the biggest UK hit at no.6 and 'Perfect Way' (which doesn't make the top 40 in the UK) becomes their biggest US hit at no.11.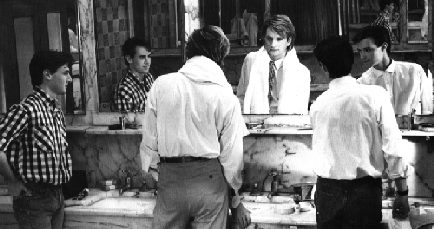 Scritti Politti in 1985: David Gamson, Green Gartside and Fred Maher
Photograph by Andy Earl, taken from the inner sleeve of
'Cupid & Psyche 85'

'Cupid & Psyche 85' took over a year to produce because of the perfection and attention to detail given when recording the songs, which becomes the method Scritti continue to use. Although this lengthly (and costly) recording process give Scritti their unique sound, it unfortunately means that there are long spells between albums and singles. Sure enough, it is three years later in 1988 that Scritti release their third album 'Provision'. Three singles 'Oh Patti (Don't Feel Sorry For Loverboy)', 'First Boy In This Town (Lovesick)', 'Boom! There She Was' are released from the album but only the first makes the UK top 40 at no.13.

Green disappears yet again, this time fed-up and exhausted from promoting the album, and David and Fred move on to produce other artists. In 1990, Green is enticed back into the studio by Martin Ware (of Heaven 17 and BEF) to record a cover-version of Stevie Wonder's 'I Don't Know Why I Love You (But I Love You)' for BEF's album 'Music Of Quality and Distinction Vol. II'. Green uses some spare studio time to record two cover-versions which feature ragga rappers Shabba Ranks and Sweetie Irie, called 'She's A Woman' and 'Take Me In Your Arms And Love Me' respectively. They are released as singles but only the first makes the UK top 40 at no.20, which arguably launches Shabba Ranks's career (as it is his first UK top 40 hit) and starts the ragga chart trend. The BEF single is also released but fails to chart.

Claiming to have enough songs for a fourth album, Green returns to Wales to work on them. He succumbs to a peaceful way of life in Wales, venturing into London to further his collection of rap music. Having slowed down his outgoings, Green now lives off a steady stream of incoming royalties from his existing songs. Instead of working on a new album, he develops a fear of his home studio and avoids it at all cost.

Green's sister encourages him to move back to London (into her empty flat) and this jolts him back into working on a new album. Persumably mostly different material from that he'd intended to use when returning to Wales, Green secures a deal with Virgin. A year's work with former band member David Gamson (producing) results in an album of rap tracks and ballads, called 'Anomie & Bonhomie', that is released to favourable reviews across the board. Green is in good spirits and appears less 'hung-up' about the creation process involved in his music. Despite the good reviews, however, the first single, 'Tinseltown To The Boogiedown' (featuring rapper Mos Def), fails to make the UK top 40 at no.46. The album briefly scores a no.33 placing. A second single from the album is yet to be released.