Fred Maher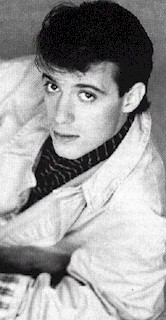 Fred Maher was the drummer in Scritti Politti from 1984 to 1988. He was born and raised in Manhattan and is the son of a New York writer. He is also as interested in the mechanics of the music as he is in playing.

Fred played in a group called Material (originally called Zu), and David Gamson used to see them play in New York. Material had an electro-dance sound, and recorded on Red Records and Celluloid Records. They had a minor American dance floor hit with a more straight-forward pop song called 'Bustin' Out'. Nona Hendryx sang on it and it was released on Ze Records. Fred left Material after they released the album 'Memory Serves' (released through Celluloid records on Elektra records) and joined up with Green in 1984 to become part of Scritti Politti.

During the time of 'Cupid & Psyche '85', Fred made a record with Robert Quine called 'Basic', which featured just the two of them playing drum machine, guitars and bass. 'Basic' was recorded on a Portastudio, and was released on Editions EG. Fred met the Editions EG people at a Lou Reed concert. Both Fred and Robert Quine played with Lou Reed on a couple of his albums. Fred also did a session for a movie called 'Perfect'.

Since Scritti Politti, Fred has moved into producing. In 1988 he produced Information Society's self-titled debut album. Their single 'What's On Your Mind (Pure Energy)', taken from the album, made no.3 in the US charts. Fred has worked a lot with Robert Quine, Lloyd Cole and Matthew Sweet. He did most of the drumming on Lloyd Cole's four albums (recorded from 1989 to 1995) and co-produced them. He also co-wrote the odd song. He is currently a staff producer at Elektra records.

To see which musical projects Fred has been involved with (aside from Scritti Politti), look at his related material section.