David Gamson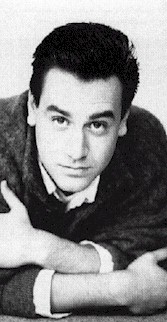 David Gamson was the co-songwriter and keyboard player in Scritti Politti from 1984 to 1988. He studied music at college and has a broader musical education than Green and Fred Maher. His father is a musician who, after running his own opera company in Italy, became an assistant to Leonard Bernstein at the New York Philharmonic. Fred's girlfriend at the time went to the same music college as David, which is how they met.

David didn't play in any bands before Scritti Politti. He wanted to be a composer but the whole scene seemed very depressing. After leaving music college, he worked as an assistant in a 16 track studio in New York. The studio produced audio-visual presentations for businesses and David spent a year editing their sound-effects library, which meant checking and labelling tiny reels of cartridge tape! Because the studio had a 16 track machine, he got to fool around and made a cover of the Archies' 'Sugar Sugar', which Fred played on. Fred suggested they take the song to Ze Records, but it didn't fit in with their style. Eventually the track got released on Rough Trade, which is how the pair met Green (he was on vacation at the time). David also released 'No Turn Red' which appeared on an NME compilation cassette.

David wrote a song which Green sang on, called 'Small Talk', which eventually became a Scritti Politti song, because they thought it would do better as Scritti Politti already had an audience. The 'Small Talk' thing went on for a long time - Nile Rodgers remixed it, and Green left his management and Rough Trade, which meant they couldn't release it. It was at this time that the Scritti Politti line-up with David and Fred was born. David and Green had also made another song for Rough Trade called 'L Is For Lover' which was never released. 'Small Talk' later became part of the 'Cupid & Psyche 85' album, and was used in a British television advert for Mercury Phonecards (at the start of the nineties).

Since Scritti Politti, David has produced and co-written songs for many artists, one of the most recent being Me'shell Ndegeocello. He used to be a staff producer at Warner Bros and then went on to be managed briefly by Worlds End Producer Management Company. He presumably now works without management. In 1998 he started work as producer on Scritti Politti's fourth album, 'Anomie & Bonhomie'.

To see which musical projects David has been involved with (aside from Scritti Politti), look at his related material section.