Green Gartside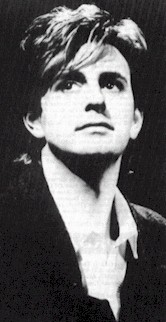 Green Gartside is the main person behind Scritti Politti; he is the songwriter, vocalist and guitarist. He was born in Cwmbran, South Wales on 22nd June 1956 and is about 6ft 6" tall. He refuses to reveal his real first name and decided on Green at the age of 16. In his younger days, his surname was Strohmeyer, much to his dislike as he got bullied at school for it. When his parents separated he was able to adopt his step-father's surname of Gartside.

Despite disappointing A-levels (he claims he was hungover!) he was awarded a place at Leeds Art School, and studied the philosophy of art history. He became very annoyed with the frivolous behaviour of the teachers and decided that 20th-century art had been reduced to absurdity. At Art School, Green lived in a squat, read a lot of philosophy and went to gigs every night. It was then that he formed Scritti Politti, a punk-rock band with philosophical overtones. One album and a handful of singles were released before the group dispanded.

Eventually a lack of purpose made Green shake the punk sound. He was lured by the appeal of pop, particularly black pop music - he liked many artists, including the Beatles, Elvis, Little Richard, Chic and the Jacksons. Together with the jolt of punk, Green's political impulses, and meeting New Yorkers David Gamson and Fred Maher, Scritti Politti eased into the pop world, which resulted in a couple of albums and some hit singles. For the first of the two albums, 'Cupid & Psyche 85', Green payed for all of the studio time, musicians, producers and managers from his advance on royalties from Virgin records. The first advance, to cover the singles that culminated in the album, was no mean sum - half a million dollars.

Green's image is as cultivated as his words. He slotted in well with the eighties pin-up scene, and magazines had to negotiate fees with his make-up artist before taking photographs. He does not read or write musical notation, and his tunes come first, having been picked out on a guitar. Words come last, and are designed to complete the sound picture. Due to his philosophical and political interests, Green's lyrics are easy to spot, being a combination of long words and cryptic examinations of the subject being sung about. Green is also interested in law and once tryed to be a lawyer. Over the years he has written and sung with other artists, including the Eurythimics, Chaka Khan and B.E.F. (Heaven 17).

In 1988, Scritti Politti slimmed down to be just Green. Between 1991 and 1997, he withdrew from public view, returning to the area he grew up in Wales.

To see which musical projects Green has been involved with (aside from Scritti Politti), look at his related material section.