Nov
8 beads accessories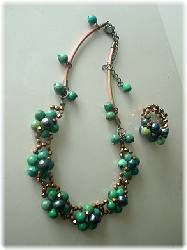 Sorry, but I had no time to update for a while because I had to write a lot of documents to solve my problem. I'll report about it when the trouble is out.
Well, the accessories in the pictures are handmade necklaces and rings which are made of natural stones and beads. I made them but those were originally designed by a handcraft artist Midoriko Asai. I found her kits in my favorite mail-order catalog years ago.
There are three sets. The blue-green one is mainly made of turquoise, the red one is of yama-sango (literally means "mountain coral") and the deep green and silver one is of freshwater pearls.
You know pearls are usually very expensive because those are cultured in seawater. That means those are raised in the natural surroundings which is very severe. But as freshwater pearls are not so expensive, those are usually used for handmaid accessories.
As I had no experience of making beads accessories before I made the red yama-sango set, I made them for the first time. But the directions were very plain and clear, I was able to make them easily.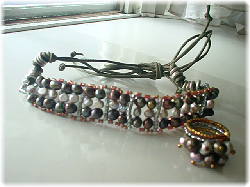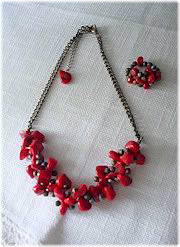 Japanese plastic beads are usually not so beautiful like many kinds of them which are on the overseas market. That because beads tend to be considered as children's toy here. After the break of beads craft boom about 10 years ago, we can find imported materials of quality sometimes but those are still not many. Moreover kits which contain natural stones are very rare. So those three sets are my most favorite handcraft beads pieces even after I made some more ones after those.
Categories: handcrafts