Jun
29 coordinates for summer1
summer in jane marple style1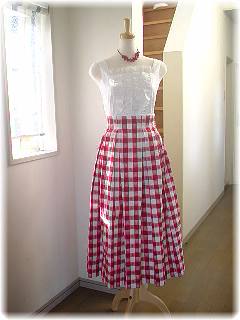 Though I put up many gorgeous dresses for winter and spring before, I show you simpler but stylish ones for summer this time.
See the first one of them today. The camisole and the skirt are from Jane Marple, my favorite brand. Camisole is usually a simple item but with cotton laces, it looks feminine, isn't it? And the skirt! I love it very much.
You may see that the skirt is only a simple red check one but it's made of Jane's special original cloth.
As 4 marks of cards, means hearts, diamonds, spades, and clubs, are weaved into it, the long skirt looks very elaborate in reality. A large ribbon which is made of the same cloth is attached on the back. I think it looks cool, yet very feminine set suitable to summer going out.
The skirt is one of the items from Jane's original series called "trump pattern series". Those marks of cards are related to the story "Alice in Wonder Land", it's one of the favorite patterns of lolita girls.
Not only red but also there are black ones. But I think the items of the series were sold out as soon as it was on sale because it was very popular. So I got this skirt through an auction site. It was a few years ago, I still want the black one. I check Yahoo! auction from time to time to get it. Though there was none until now, I won't give up! (laugh)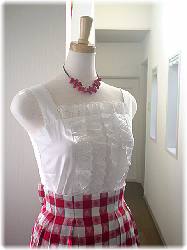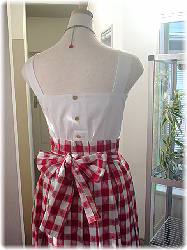 In addition to the main items, how about the red check bag, sandals, and the red necklace in the following pictures? The bag is also from Jane Marple but the shoes are very cheap one which I happened to find at a small outlet shop. In spite of a non-branded item, don't you think it extremely fits to the set?
And the necklace. It's made of many natural red stones and beads. I bought a handcraft kit and made it a few years ago. The kit was from a series, so there is a same style ring which is also in the picture. As beads accessories were very popular in those days, there were many fine kits everywhere. Though the handcraft boom has died down here recently, many people still enjoy making accessories with beads. The finished pieces look superior by using natural stones like this with beads.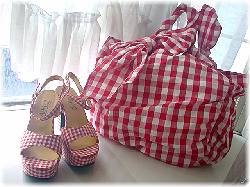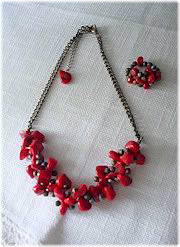 This is one of my special sets for summer. But I also have many stylish sets which I want to show you. So I'll put up them in the mean time. Just wait'n see.
Categories: fashion