May
31 bath goods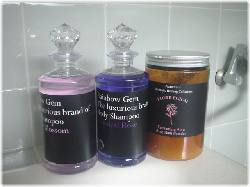 There are some stylish variety stores named franc franc. One of their shops is in Lucua, a big commercial building near JR Osaka station. I drop in there occasionally and I found those bath goods this time.
The tall tea pots which I picked up here before was also from the same shop. Those are all original goods of franc franc. The shop is always filled with many kinds of beautifully designed sundries.
The brown canister in the picture is bath powder and the other bottles are body wash. This kind of stylishly bottled body wash is usually very costly. But these are ¥1,000 a bottle, which is, I think, rather cheap for the good design of the bottles. Still the fragrance is very good and graceful. Though there are five kinds of them, I bought "cherry blossom (lavender)" and "classical rose (blue)". And the perfume of the bath powder is also rose, which is suitable to using with those body washes.
As you know the Japanese are very fond of bath times, there are many kinds of body washes or bath powders. But I can seldom find ones which have my favorite fragrance like these.
Well, I'm going to take a bath with them today. (laugh)
Categories: shopping